Glorious day at the races with mixed bag of results
Royal Corinthian YC, Burnham-on-Crouch, Essex (7 October 2023): Although the basking sunshine and winds reaching 22kts for the opening day of the Endeavour Trophy made for a glorious day of racing for most, it was bittersweet for some who suffered the perils of penalties at the start in this one discard, eight-race series writes Sue Pelling.
For Nick Craig (six-times Endeavour winner), and Toby Lewis (nine-time Endeavour winning crew) who know the river well from experience at this challenging event, it was a clean set of starts and some respectable results that put them in the overnight lead with 13.5pts. Even though the conditions in the early part of the day couldn't have been better for this team, Craig did confess they struggled a bit when the wind dropped off plus they suffered gear failure in race two when they were in the lead: "Going upwind with our weight, we're fine but downwind we were just hanging on in there. In race two the toe straps broke, then the tiller extension fitted snapped, so all in all, we're amazed to find ourselves in this position. Thankfully the RS team did an amazing job of fixing the extension for us during lunch break so we were able to get back on track without losing a race."
Among the favourties who fell victims of a Black Flag in race two were Christian Birrell and Luke Patience (Merlin Rocket), and Arran Holman and James Crossley (RS200). Thankfully for them, they'll be able to discard these results after tomorrow's race five. The pair's close call on the startline in race one led to a request for redress, which they won, which puts them in sixth and ninth respectively going into tomorrow's final four races. Birrell chatting as he stepped ashore this afternoon was upbeat about the day's racing. "It was a cracking day and we're pleased with the results. The racing is always insanely close at the Endeavour. There are so many amazing sailors here and it's always our favourite event of the year. Not sure how we'll go in the light airs tomorrow but we're looking forward to finding out."
Matt Mee and Chris Martin (GP14) sailed a smart series of races today, keeping out of trouble and making the most of the superb conditions. They were always up there in the leading pack and finished the day with a respectable 19.5pts in second place overall. Mee, another serial Endeavour competitor chatting about tactics today said: "Our mantra today was to sail the boat as consistently as we could and think about the obvious things such as lifting tacks. Sad to say our starts kind of got worse as the day wore on in terms of starting conservatively because we were keen not to be over [the line], so in that respect the last two races were recovery races. Very pleased with where we stand and we're looking forward to more of the same tomorrow, albeit lighter conditions."
Sibling rivalry between the Whaley brothers – Ben Whaley and Lorna Glen (RS Aero 6), and Sam Whaley and Larissa Connabeer (Waszp) – was in full flow today with just nine points between them (in third and fifth place respectively) at close of play. Ben, who has sailed the Endeavour twice before with his brother Sam (2017 and 2019) is thrilled to now be racing against him: "We are very pleased with our two thirds today. There's a long way to go but we're delighted to be ahead of my brother. In fact it was the highlight of the day, particularly in the exceptionally close last race, where we just pipped him to the post!"
Sam Whaley added: "Ben's the normal RS200 sailor, so I am kind of 'gatecrashing the party'. This is the first time Larissa and I have sailed together, so we are pleased with how we're working well as a team in such a short space of time. This is also the first time I've done the Endeavour without Ben so it's a bit of an emotional break-up really!"
Another pair who really shone today was the team of Edd Whitehead and Karen Oldale (RS400) who finished the day in fourth place. They sailed impressively particularly in the second race when they were hot on the heels of Craig and Lewis for most of the race. They pushed him hard and closed the gap on every round but when Craig and Lewis suffered gear failure at the last leeward mark, the pair were in just the right place at the right time, ready to pounce, and managed to snatch victory while Craig and Lewis limped across the finish line in second place.
While it was a tough day on the racecourse for all today with four intense back-to-back races in challenging conditions, special mention should be made of Benjamin Pascoe who is just seven years old. This little boy, who is crewing for his father Sam and representing the 505 class, captured the hearts of many today for his courage and determination and, a pretty respectable result in 17th place overall. In his concluding truthful chat after the race today when asked what his favourite part of the day had been he said: "None of it… except the fun waves." With such a good, early Endeavour initiation, I am sure young Benjamin will be back sailing the Endeavour in his own right one day.
Back in the Royal Corinthian Yacht Club this evening competitors, members and guests were treated to the formal annual Endeavour dinner in the club's historic trophy room.
The concluding four races to determine the 2023 Endeavour Trophy champion of champions take place tomorrow with the first race scheduled for 1030. The forecast is for lighter winds which could see a total change in results with some of the lighter crews having an opportunity to take a leading role.
Results (after four races)
1st D One – Nick Craig and Toby Lewis (13.5pts)
2nd GP14 – Matt Mee and Chris Martin (19.5pts)
3rd RS Aero 6 – Ben Whaley and Lorna Glen (23pts)
4th RS400 – Edd Whitehead and Karen Oldale (26pts)
5th WASZP – Sam Whaley and Larissa Connabeer (32pts)
6th Merlin Rocket – Christian Birrell and Luke Patience (35.5pts)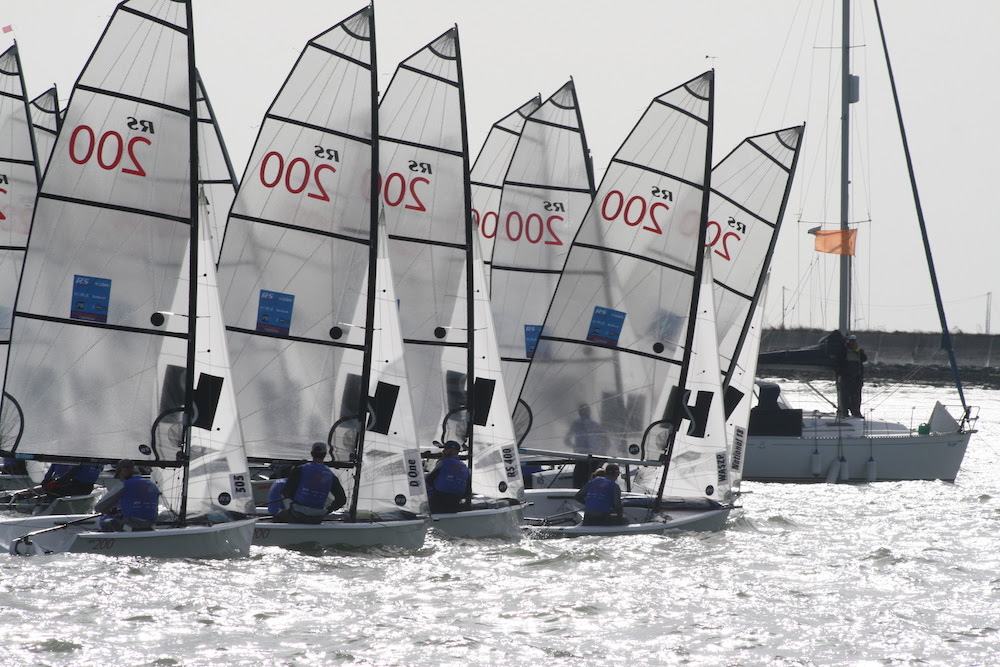 Startline action – photo Sue Pelling
Nick Craig and Toby Lewis (D One) to leeward, lead Matt Mee and Chris Martin (GP14) – photo Roger Mant
Christian Birrell and Luke Patience (Merlin Rocket) take a comfortable lead in race three – photo Sue Pelling

Benjamin Pascoe (7) in action downwind with his dad Sam (505) – photo Roger Mant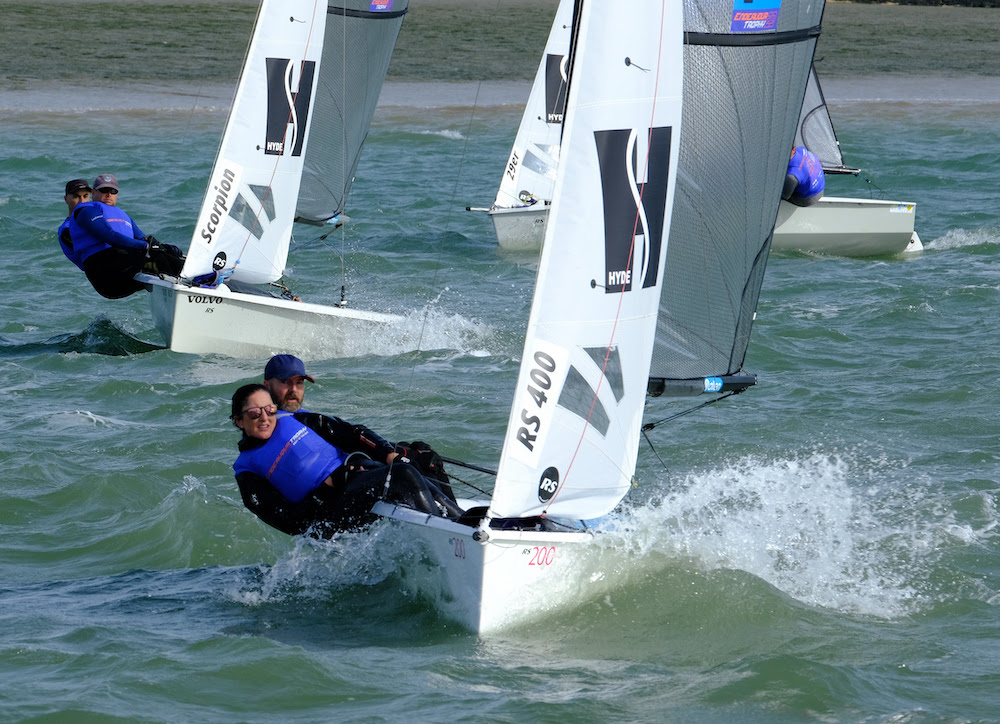 Edd Whitehead and Karen Oldale (RS400) winner of race two – photo Roger Mant
Ben Whaley and Lorna Glen (RS Aero 6) in third place after a consistent set of results – photo Sue Pelling